- December 6, 2017 -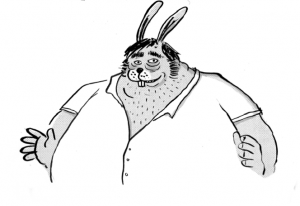 Selina's Bernard Manning impersonating Uncle – Uncle Bernie (!!!) – is out in Ozland as a core member of the Barmy Bunnies watching the cricket.  And guess what I hears on the news today? That police in Melbourne are hunting a thief who broke into their Sexland adult sex shop and stole a life-sized fantasy sex doll called Dorothy with 'ultra realistic feeling skin' and a titanium alloy skeleton. The perp is described of solid build and wearing a balaclava with huge side whiskers sticking out. The idiot fucker fits the bill, is in the vicinity, and has form having over the past few years raided every Ann Summers in the Birmingham area.
You thinking what I'm thinking? To all my Bunny Buddies in Oz –  if you see him, do not approach him. He'll be loaded on a cocktail of Fosters and extra strong Viagra. And unlike the English cricket team, Uncle Bernie is lethal with his wood. You have been warned. Dorothy is a goner. And he'll be calling himself (to anyone who'll listen) the Wizard of Oz. Twat.