- October 24, 2017 -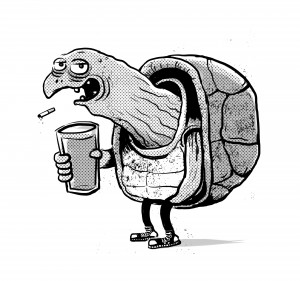 NEWFLASH: ST HELENA TORTOISE HAS A GAY OLD TIME
My Great Uncle Jonathan made Page 3 of the Times!! Should have been Page 3 of the Sun. Aged 186 he's the oldest living creature on the planet, and is still trying to get his end away.
Unfortunately the poor sod he's been dry humping is a boy tortoise not a girl tortoise. Frederic NOT the Frederica he thought he was pleasuring. For 25 years!!! That's how long this affair has been going on.
Still 186 years old and he's still on the job. Respect due to Great Uncle Jonathan. Just don't park anything shell-like too near him. He will lock and shoot his load.